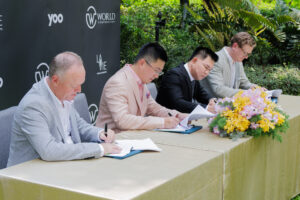 La Vie Hotels and Resorts has signed an agreement with YOO, the renowned international interior design and lifestyle group, to bring two of their flagship hospitality brands – the upper upscale YOO2 Hotel and luxury By YOO villas to Phuket. This signing follows last year's announcement in Australia that YOO will make a play in Melbourne, after La Vie secured the exclusive rights to bring the brand to the Pacific.
The Forest by YOO, will be the first design-led lifestyle hotel and luxury villas to enter the market and combined will add close to 600 additional rooms to the Phuket market. Located on the mountain rises at the southern end of Patong, the hotel will be designed to limit the impact on the existing tropical forest and with the addition of lush tropical gardens, both the YOO2 Hotel and By YOO luxury villas will become a must visit destination for travellers seeking a totally unique escape.
Spread over two separate zones, both YOO2 and By YOO luxury villas will cater to families, couples and groups, with expansive, luxurious leisure facilities and amenities designed to leave guests re-energised and invigorated. The food and beverage offering at YOO2 is primed to be a must visit destination for not only hotel guests but visitors to the island, with signature restaurants, vibrant all-day dining, swim up bars coupled with live music and entertainment. The Forest by YOO promises to be the most exciting new development in Patong.
Primed for a 2026 opening, YOO2 will be a full service, design-led lifestyle hotel that will provide the balance required by the modern day traveller. With 432 guestrooms, a luxurious day spa that will offer beauty and relaxation treatments as well as sunrise yoga, and guided beach and mountain runs, YOO2 will also call home to a signature restaurant and vibrant all-day dining restaurant and bar that will showcase innovative drinking and dining concepts. Delivering on YOO2s ethos of connecting guests with local soul, masterclasses in local cooking, cocktails and craft will be a feature alongside food and art tours.
The resort will also provide exceptional meeting, event, and wedding facilities, showcasing world-class service and local produce.
There will be 131 By YOO luxury villas and guests will have full access to the facilities on offer at YOO2, while also boasting its own YOO Clubhouse with restaurant, bar, gymnasium and pool deck.
Chris Batterham, Chief Development Officer at La Vie Hotels & Resorts, expressed excitement in bringing the YOO2 and By YOO brands to Phuket.
"We are thrilled to be working with hotel owner Dr. Chirasak Chiyachantana from Worldcorp, to bring the YOO2 and By YOO brands to Thailand and deliver a true, design-led lifestyle resort offering on the island. Phuket continues to be a world-class destination and a mecca for travellers from all over the globe, and we are excited to be working with the YOO team, once again, to bring these properties to life".
Craig Bond, Managing Director of La Vie Hospitality Group, said, "Our partnership with YOO and Dr Chirasak Chiyachantana is an important step in our group's expansion and we are confident that these resorts will resonate with guests seeking a totally unique and inspiring holiday experience. We believe that the YOO2 and By YOO brands will set a new standard in the hospitality industry in Phuket, offering a unique and unforgettable design-led lifestyle experience for our guests. With exceptional leisure facilities, world-class service, and a strong cultural connection to the local area, we are confident that these in hotels will be a huge success.
"Working in partnership with YOO, our goal with these hotels is to create a truly immersive experience that combines design, culture, and wellness, with food and beverage playing a major role in drawing visitors to the precinct. We want guests to leave feeling rejuvenated and inspired, with memories that will last a lifetime. We can't wait to get started".
Dr. Chirasak Chiyachantana, Chief Executive Officer of Worldcorp, owner of YOO2 and By YOO, said "We are proud to be working with La Vie Hotels & Resorts to bring this world-class development to the people of Phuket and we are looking forward to working with the team at YOO to ensure the design and style of the properties truly captures the essence of the brand."
Image Caption
1st image:Chris Batterham, Craig Bond, Dr Chirasak Chiyachantana, Jerry Xu, Blair Pollock, Shankar Sreekumar (Head of South & South East Asia, La Vie)
2nd image:Craig Bond, Jerry Xu (Founder & CEO La Vie), Dr Chirasak Chiyachantana, Blair Pollock (Operations Director, YOO)
About La Vie Hotels and Resorts
La Vie Hotels and Resorts is an owner centric independent hotel management company that offers a tailor-made, cohesive and strategic approach in response to our clients' real estate objectives within Hospitality. We are the region's leader in third party hotel management partnering with major international hotel brands. The portfolio represents a collection of diverse properties from hotels in bustling downtown cities, resorts in popular tourism destinations and boutique hotels in sought after locations. The group currently operates hotels and resorts across Australia, Bangladesh, Cambodia, Greater China, Maldives, Sri Lanka, Thailand, Ukraine and Vietnam including those underdevelopment.
About YOO
Established in 1999, YOO is an award-winning design collective of architects, interior designers and product designers under the creative direction of YOO Head of Design, Mark Davison. Designing landmark residential, hotel and private commission projects around the world, YOO Design Studio also facilitates the design visions of YOO's collaborations with Philippe Starck, Jade Jagger, Marcel Wanders, Kate Moss, Steve Leung and Sussanne Khan. It is this experience which has developed a unique design intelligence that could only come from working with the world's best.
With a flexible approach to design, YOO Design Studio's experience in over 36 countries has developed a strong appreciation for local culture, customs and design requirement.
For further information, head to www.laviehospitalitygroup.com
For media information, contact
Angela Cowley
Eight Communications E: angela@eightcommunications.com.au T: +61 430 321 200
Christina Atherton
Eight Communications E: christina@eightcommunications.com.au T: +61 418 428 177