NOOE Maldives Kunaavashi opens
Welcome to a lifestyle that is Never Odd Or Even (NOOE).
3 May 2023, Sydney, Australia: La Vie Hotels & Resorts, one of Asia Pacific's leading and fastest growing independent hotel management companies, is today officially announcing the launch of its new lifestyle brand, NOOE, alongside its first NOOE resort, a new build island resort in the tropical paradise of the Maldives.
NOOE promises to be a place where great things happen; where lobbies are abuzz, restaurants are local favourites, pools perform as day clubs and gyms build as many smiles as bodies. Guests are invited to lounge in studios, suites, bungalows and villas, not rooms, and sharply designed spaces inspire work and creativity, as much as rest and relaxation.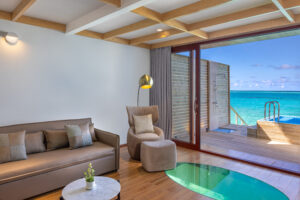 Designed with balance in mind, NOOE Maldives Kunaavashi offers travellers 72 Guest Bungalows and Villas spanning 3 hectares, 39 of which boast an overwater location. These stunning overwater villas provide the ultimate holistic and romantic escape, offering two stories, private plunge pools, a large deck area and uninterrupted views out over the Vaavu Atoll (affectionately known as the 'Wow' Atoll to the locals).
Located just 1 hour from Male city and international airport by speed boat or 25 minutes by seaplane, the property features six Food and Beverage Outlets, a Dive & Watersports Centre, kǔlh·un' (Play) Kids Club, Boutique Shop and Th·āri by Mandara Spa, offering three private treatment rooms with a range of curated treatment options.
At NOOE, F&B is at its heart; it's where culture, history and the ritual of food preparation and service encourage connection with artisans of local culinary delights. NOOE Maldives Kunaavashi has been carefully designed to deliver. From all-day dining restaurant Ìrǔ (Sun) providing themed buffets and live action stations, to Japanese inspired dining at w·āsho'ku, featuring a custom built teppanyaki grill and showcasing combinations of traditional and moderninterpretations of Japanese cuisine, NOOE Maldives Kunaavashi will offer the ultimate sensory experience.
The resort's Pool bar vēlì (Sand) will provide life's comforts (and cocktails) for guests to enjoy with its day club vibe, set up with sunlounges and cabanas looking out over the pool and crystal clear waters of the Indian Ocean. The resort's coffee shop, mõ·odhǔ (Sea), offers guests a choice between selections of decadent and holistic treats to go, which path will you choose?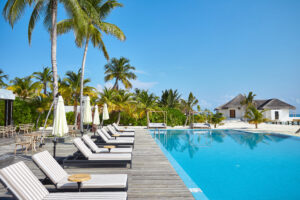 fl·äm·ē chargrill overwater restaurant showcases the best of air, land and sea. The perfect combination of dry aged meat partnered with premium seafood and poultry sourced locally and from across the globe.
Clubhouse is a global feature of NOOE, and the Clubhouse at NOOE Maldives Kunaavashi will feature an all-day dining offering featuring Mediterranean influenced small plates, the best coffee and cocktails on the island alongside buzzy live entertainment.
Craig Bond, Managing Director of La Vie Hotels & Resorts, said the group was beyond excited to be launching NOOE, a lifestyle brand that will truly encapsulate the essence of life, colour and vibrancy.
"We have been working on creating the NOOE brand for some time now, and we are thrilled to be launching this new lifestyle offering in the Maldives with our partners CJL Investments.
"The NOOE brand brings together what it means to live a balanced lifestyle; blending work, play, relaxation, good food and drink, and adventure all into one, and we are excited to grow the brand in other resort and urban locations.
"Careful attention has been paid to the design and layout to our Maldives resort, ensuring all who visit have the space and privacy to completely unwind. With 72 incredible bungalows and villas, a day spa, watersports centre, kids club, not to mention six restaurants and bars to choose from, the dream of paradise can truly be enjoyed.
"The Maldives has always been known as a bucket list destination for travellers across the globe, so what better place to launch a new lifestyle brand that promotes a balanced holiday than the place everyone dreams of visiting.
"We've long seen a gap in the market for an upscale lifestyle resort brand and see huge growth opportunities for urban and resort properties within this segment across Asia Pacific. We look forward to growing NOOE and bringing owners and guests on the journey with us".
For more information on NOOE and to book NOOE Maldives Kunaavashi, head to www.nooe.com
For further information or interview opportunities, contact
For media information, contact
Angela Cowley
Eight Communications E: angela@eightcommunications.com.au T: +61 430 321 200
Christina Atherton
Eight Communications E: christina@eightcommunications.com.au T: +61 418 428 177
About La Vie Hotels and Resorts
Established in 2000, La Vie Hotels and Resorts is a third-party hotel management company with operations across the Asia-Pacific region. La Vie is an owner focused operator that provides a unique 'one-stop shop' approach resulting in a cohesive and strategic response to their clients' real estate objectives within Hospitality. The portfolio represents a collection of diverse properties: business hotels in bustling CBD, family resorts in popular tourism destinations or boutique art hotels hidden in sought after neighbourhood.