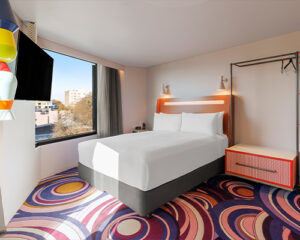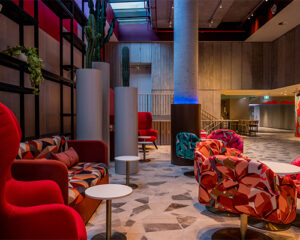 Celebrating the unique stories of Sydney's inner-city suburb of Surry Hills, the brand-new designer hotel ADGE Hotel + Residences is putting on the finishing touches before it officially opens its doors next month.
Adding another boutique property to its growing portfolio, La Vie Hotels & Resorts, Asia Pacific's leading third-party hotel management company, has been appointed as the hotel operator and will manage the hotel on behalf of owners Cienna Group.
Designed in collaboration between Tzannes and Team 2 Architects with interiors by SJB, the new hotel will sit alongside the former Cambridge Hotel, which will also rebrand to ADGE Hotel + Residences and is currently undergoing a significant overhaul. Together, the hotels form part of a $65m transformation of the site, that mirrors the unique spirit and energy of Surry Hills through bold colours, eclectic furnishings and plenty of personality.
Commenting ahead of the hotel's opening, CEO and Founder of La Vie Hotels & Resorts, Jerry Xu, said, "We are thrilled to be working with the team at Cienna Group to open this wonderfully colourful, vibrant hotel, right in the heart of Surry Hills, and we believe ADGE Hotel + Residences will become a true representation of the spirit and energy that makes this neighbourhood so special.
"The collaboration between Tzannes, Team 2 Architects, and SJB has resulted in an architectural masterpiece that perfectly complements the spirit of this inner-city suburb, and with our commitment to excellence and our passion for delivering top-tier hospitality, we are certain that this hotel will thrive as a jewel in Sydney's boutique hotel landscape."
Already calling ADGE Hotel + Residences home, is the acclaimed Soul Deli, which has a cult following of its own and recently relocated to the lobby at 212 Riley Street, Surry Hills.
Set to become the destination for urban adventurers and experience seekers when it opens next month, ADGE Hotel + Residences offers 93 creatively designed guest rooms featuring bold carpets, pod-style bathrooms, SMEG fridges and Nespresso machines. This is in addition to 12 existing two-bedroom apartments that offer open plan living and dining, fully equipped kitchens and large wraparound balconies.
Seeking inspiration from its local surroundings, the exterior design features interlocking brick details that create folding forms on the facade and reflect the industrial spirit of Surry Hills. While the interiors are designed to create a unique space where fashion, music, art and culture collide to deliver an unforgettable guest experience.
Featuring a specially commissioned large-scale mural at the hotel entrance from eminent Australian artist, Adrian Hing, inviting the curious to uncover what's inside, each floor of the hotel features a unique colour and art style. Reflecting the distinctive lifestyle of Surry Hills, an abstract sculpture of powder coated stainless steel and neon lights by Anna Varendorff creates eye-shifting shadows on the building's exterior that is both gleaming and ephemeral.
When the complete renovation of the former Cambridge Hotel is complete early next year, ADGE Hotel + Residence will boast a total of 242 guestrooms, and also house an Italian-style restaurant with a well-known chef already poised to take the reins.
As well as enjoying Korean fare from Soul Deli, guests can also delight in dining at the intimate Japanese omakase restaurant, Raida Noda's Chef Kitchen, which is located in the lobby of ADGE Residences, where Chef's selection replaces the menu each night and diners – of which there can only be 8 at any one time, sit around the open kitchen and watch the masters in action.
For more information on ADGE Hotel + Residences, head to: https://adgehotel.com.au/
ENDS
FOR MEDIA INFORMATION PLEASE CONTACT:
Christina Atherton | christina@eightcommunications.com.au I 0418 428 177
Angela Cowley | angela@eightcommunications.com.au | 0430 321 200